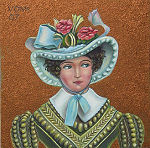 About fashion dolls
My first paintings I made, after I had been given oilpaint as a present for my 16 th birthday. It was a revelation: finally I understood, why my earlier attempts to achieve the result I had pictured, were doomed to fail, having worked with waterpaints. That the shades I had in mind, could be done in oilpaint only.
Step by step I discovered the magic of oilpaint.
Allthough, despite my initial sense of triumph, it apperars to be a work in progress still: the search for the ideal recepy!
Anyhow, my first paintings consist made up woman wearing bonny hats. When I decided to become an "artist", I couldn't get on with this theme any longer. In a time where conceptual art reigned supreme, I could no longer account for the very content of lady's wearing nice hats.
I found it hard to switch to another theme. Eventually, after years of strugglng with the conception true art had to be socially relevant or renewing, I took my refuge in painting portraits. That's what I could agree to, because it can be looked upon as a craft, by which I didn't have to ask myself, if I was involved in making actual "ART" and if my work had some meaning in this time of age.
It is not easy for me to obtain commissions. During a slack period, december 2006, I suddenly thought of the lady's with hats again and got the luminous idea, to turn them into dolls. Because obviously, deep down, I have always kept thinking, you can't just depict made up people. Apparently a doll to me, serves better as a hat-rack for the purpose, even literally, to hang appealing fashion upon.
Inspired by images from art history, ( I have always been fond of costume history ), or inspired by my own imagination, as are the dolls. The freedom of it not having to be "ART", maybe is something I finally dare to permit myself this way.
Hence this new caregorie on my website. Soon I shall extend the doll paintings by 3 dimensional works, using dollheads in relief, manufactured in gyps and papier-maché and other materials like feathers, buttons, real hair etc. At this moment the doll with the hat with real fathers of a Flamish jay, is a prudent start.
5 Februari 2007